LU4C Ambassador:
Faizel Jacobs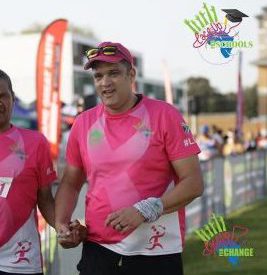 Faizel Jacobs
LU4C Chairperson
Father, cancer survivor, runner, mentor, motivational speaker, humanitarian these are a few labels to describe Faizel Jacobs.
"You have to work twice as hard to make an impact. It's not enough that you educate them - you have to also give them skills and knowledge that will positively affect their lives."
Faizel has always been involved in sport through various sporting codes played at school to running for charity, to sporting coach. Later, he would go on to mentor children from disadvantaged communities by taking them under his wing and showing them the ropes of sport and life. Through his role as coach and mentor to these children, he has first-hand knowledge of the lack of resources in these communities. And it is also clear, that playing sport and being part of a team is a much-needed escape for these children. Faizel is passionate about helping children who have few opportunities and giving them a chance at a better future. So, he created LACE UP FOR CHANGE with the vision of using sport as a tool to help individuals and organisations change our world for the better.
As a motivational speaker, he often shares his life experience of fighting cancer and the challenges of life with a stoma to influence and inspire others. A stoma provides another way for the body's waste materials to leave your body into a waste bag. The stoma and waste bag is usually attached to the Ostomates abdomen. Faizel's message is about overcoming obstacles and not letting anything hold you back. It's about the power of positivity and never giving up. He believes everyone has something they are good at and some talent they can develop further. He says, "Don't wait for someone else to believe in you. You have to believe in yourself. Once you do that, doors will open for you, and you will succeed in all areas of your life."
To learn more about FAIZEL JACOBS and his story follow him on social media, have a chat with him at the next Lace up for Change event or get in contact with him about speaking at your next event.