LU4C Ambassador:
Sadiqa Parker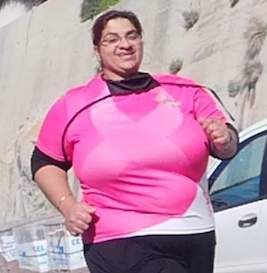 Sadiqa Parker
LU4C Brand Ambassador
"It's never too late to make a change." - Is a motto that Sadiqa lives by. She is a mother, a domestic abuse survivor and advocate for making better lifestyle choices to live a healthier life. The motivation behind being more active and living her best life is the prevalence of chronic and lifestyle diseases in her community and family. This is a topic she often speaks openly about to encourage others to make a change.
Sadiqa has made it her mission to help others live longer, healthier and happier lives through motivating them to get up and get active. This mission extends into the goals of LACE UP FOR CHANGE where she actively advocates for support and participation in their various fundraising events and challenges to help less fortunate communities live better lives.
In her own words… "When you are struggling to survive, it can be difficult to make healthy changes in your life like leaving an abusive relationship, building up skills, getting involved in a fitness challenge or starting a new exercise program. That's where LACE UP FOR CHANGE comes in! It's a great way for people with limited resources to make big changes in their lives... and... raise much-needed funds at the same time!" For Sadiqa, personally, it has given her purpose and motivation to rebuild and become her best self.
Naturally, this mission of helping others has extended to her family, friends and strangers. She's helped many of them live healthier lives by simply being a positive role model. "There's no greater gift you can give to another than to inspire them to be their best self."
Sadiqa believes everyone has the ability and potential to live a truly happy and healthy life… and that is something she works tirelessly to help others achieve through self-care and through her work with LACE UP FOR CHANGE.